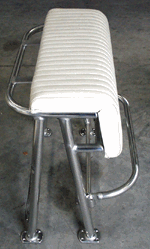 Gulf Coast Fabricators, Inc. product line includes superior built leaning posts. Need a live-well, let us build one into your leaning post. At Gulf Coast Fabricators, Inc. we keep several different models of leaning posts in stock. But if you can't find what you need, we will custom build a leaning post so you get a leaning post fit to your specific height requirements and to fit your particular needs.
Gulf Coast Fabricators, Inc. is all about custom fabrication. Which means if you have an idea, we'll make it into a reality. Take a look below at some of these samples, then give us a call at (850) 584-5979 or send us an email and let us get started on your leaning post!!
Click on photo to enlarge.